Introduce a Caviar Bar to delight your guests.
Looking for an exquisite caviar bar catering service? Our premium caviar bar catering offers the ultimate indulgence for your special event. With a selection of the finest caviar from around the world, expertly paired accompaniments, and a dedicated team of professionals, we ensure an unforgettable culinary experience. From private celebrations to corporate gatherings, our caviar catering service will elevate your event with sophistication and luxury. Contact us to discover the perfect blend of opulence and refinement for your next occasion.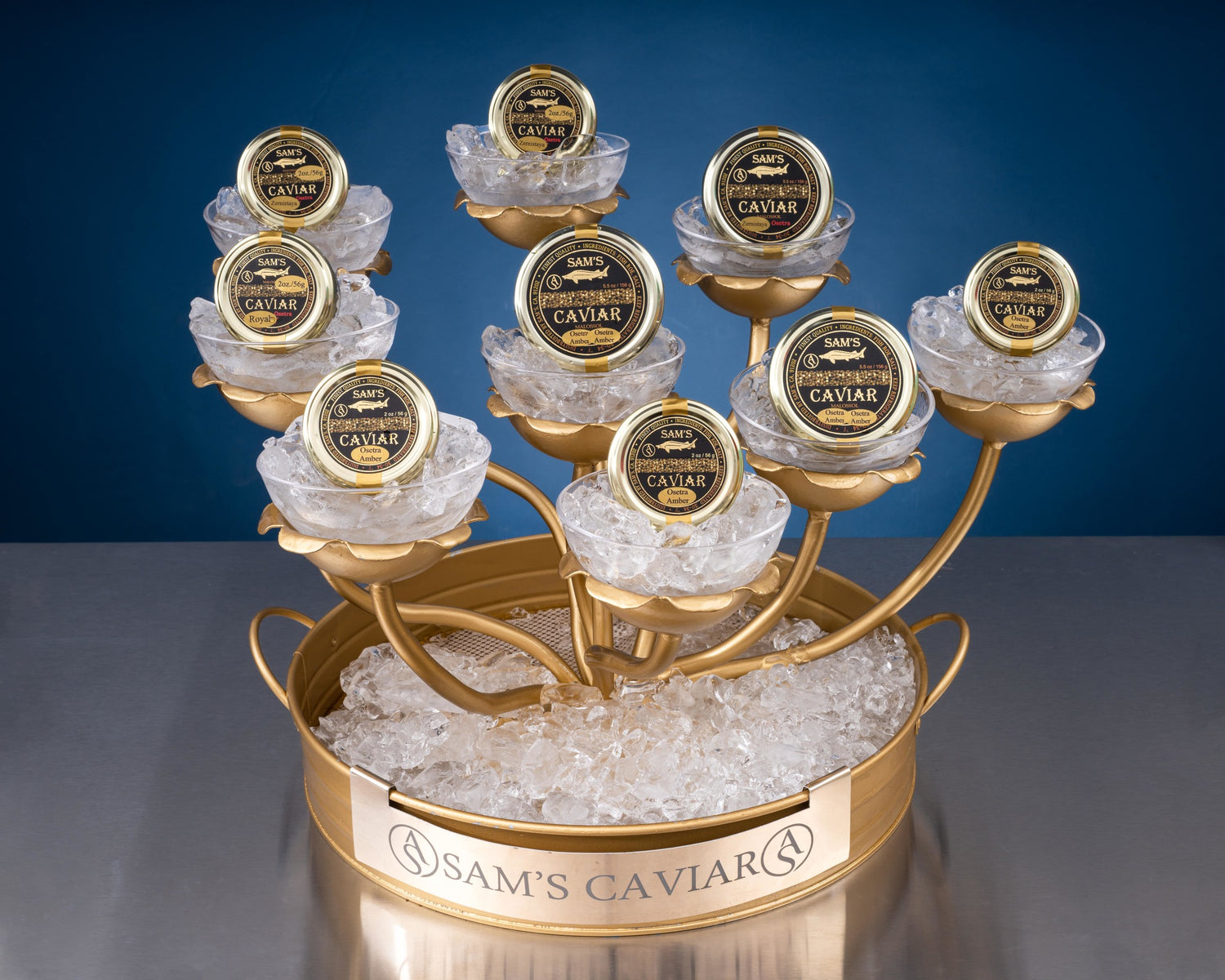 LOOKING FOR AN EXQUISITE CAVIAR BAR CATERING SERVICE?
Welcome to our exquisite caviar bar service, where we indulge your senses in the epitome of luxury and sophistication. We offer an unparalleled experience that caters to the refined tastes of caviar connoisseurs, elevating your dining affair to new heights.
At our caviar bar, we pride ourselves on sourcing the finest and most exquisite varieties of caviar worldwide. Our selection showcases the diversity and complexity of flavors that caviar offers.
The ambiance of our caviar bar is a blend of opulence and intimacy, creating the perfect setting for you to savor this delicacy. We guarantee an unforgettable journey for your taste buds.
We curate a menu of carefully crafted accompaniments to complement our exceptional caviar selection. Indulge in freshly baked blinis, lightly toasted brioche, and artisanal crackers, each meticulously chosen to enhance the flavors and textures of the caviar. We also offer a range of traditional and innovative garnishes, including finely chopped onions, whipped cream cheese, crème fraîche, herbs, and other seasonal toppings.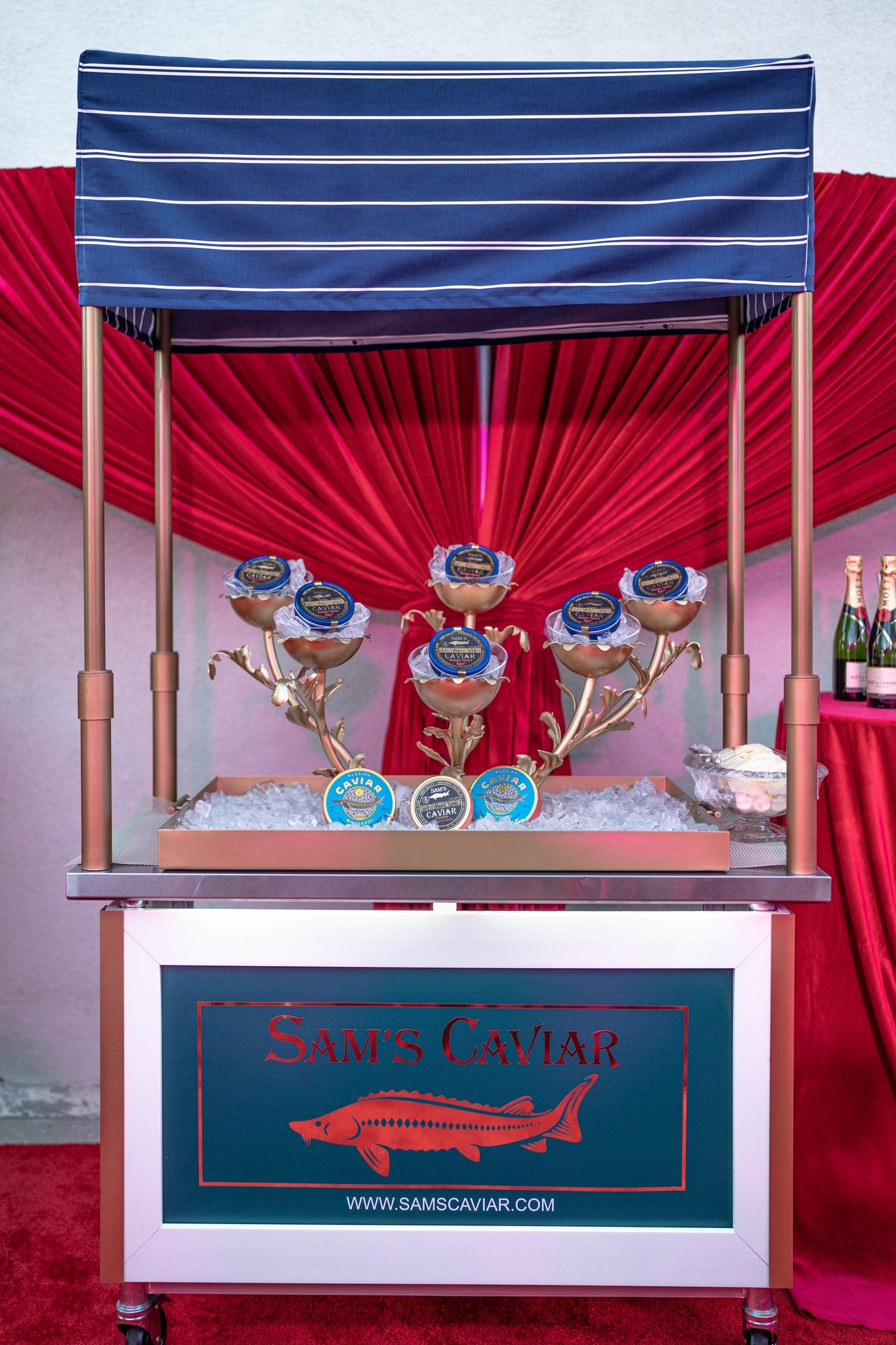 WHY CHOOSE A CAVIAR BAR CATERING SERVICE?
Choosing a caviar bar catering service for your event offers many benefits that will elevate your occasion to new heights. Here are some compelling reasons to consider:
Exquisite Luxury: A caviar bar adds an element of opulence and sophistication to your event. It symbolizes refined taste and exclusivity that will impress and delight your guests.
Culinary Experience: Caviar is renowned for its delicate flavors and unique textures. A caviar bar catering service allows guests to indulge in this culinary delight, offering a memorable and immersive tasting experience.
Variety and Quality: Caviar bars offer an extensive selection of the finest caviar worldwide. This ensures that your guests can enjoy a range of flavors and profiles, from the renowned Beluga to the buttery Osetra and more. The quality and freshness of the caviar are carefully curated, guaranteeing a premium dining experience.
Expert Pairings: Caviar bars are not just about the caviar itself. They also provide a range of carefully selected accompaniments, such as blinis, brioche, and garnishes. These pairings are designed to complement the caviar, enhancing its flavors and creating a harmonious culinary symphony.
Memorable Impressions: Offering a caviar bar catering service at your event creates a lasting impression on your guests. It shows a commitment to providing an extraordinary dining experience and attention to detail that sets your event apart.
Versatility: Caviar bars suit various events, including weddings, galas, cocktail parties, open houses, product launches, and more. They can be set up at various venues, whether an elegant ballroom, an outdoor garden, or a corporate event space.
Choosing a caviar bar catering service ensures that your event is infused with luxury, exceptional flavors, and a touch of extravagance. It creates a memorable experience that will leave a lasting impression on your guests and make your event unforgettable.
INVITE SAM'S CAVIAR TO YOUR NEXT EVENT
Interested in making a Caviar Bar at your next event? At Sam's Caviar, we can help make your next event a success. Please send us your details and a company representative will reach out to you.